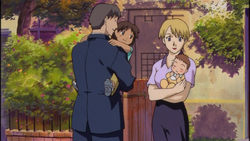 Henri's family was a family of four, a husband, a mother, Henri, and their youngest son. They were killed in their home by a bomb at the beginning of Daily Bread.
It is mentioned in the Episode, Daily Bread, that Henri's father worked with Legrand and his company, French National Police's Counter-Terrorism unit. Henri's family was killed because Legrand was leaking information about his company to Cressoy, whose faction had them killed.
Voice Actors
Edit
Henri was voiced by Kevin Corn in English and Minako Moto in Japanese.
Henri's Mother was voiced by Kelly Manison in English and Miyako Tao in Japanese.
Henri's father was voiced by Jason Douglas in English.
Ad blocker interference detected!
Wikia is a free-to-use site that makes money from advertising. We have a modified experience for viewers using ad blockers

Wikia is not accessible if you've made further modifications. Remove the custom ad blocker rule(s) and the page will load as expected.